April's book title is American Gods by Neil Gaiman.   We will be meeting at the Bennigan's in Clarksburg,  Maryland on Friday, April 27, 2018 at 6:00 p.m. for book discussion.   Dawn Spruill will be leading the discussion so please RSVP to Dawn at spruillgirl1@gmail.com so we know how many seats to reserve.
Book Synopsis from Neil Gaiman's Website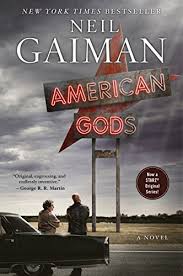 Released from prison, Shadow finds his world turned upside down. His wife has been killed; a mysterious stranger offers him a job. But Mr. Wednesday, who knows more about Shadow than is possible, warns that a storm is coming — a battle for the very soul of America . . . and they are in its direct path.
One of the most talked-about books of the new millennium, American Gods is a kaleidoscopic journey deep into myth and across an American landscape at once eerily familiar and utterly alien. It is, quite simply, a contemporary masterpiece.
Hugo Award for Best SF/Fantasy Novel
Bram Stoker Award for Best Horror Novel
Locus Award for Best Fantasy Novel
Nebula Award for Best Novel
We are always looking for author/book suggestions.  Please either come to a book club meeting or send in your suggestions so that we can include them with the others.  Remember, if your book suggestion is chosen, you're the next host/hostess!