A book has been selected for the March Book Club meeting.  We will be reading The Girl Who Chased the Moon by Sarah Addison Allen.  We will gather together at Dawn Spruill's house in Woodsboro, Maryland on Sunday, March 17, 2019 at 1:00 p.m.  It will be a potluck event so please feel free to bring a dish to share.  To RSVP and get Dawn's address email her at spruillgirl1@gmail.com
About The Girl Who Chased the Moon from Penguin Random House's website.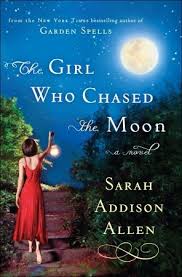 NEW YORK TIMES BESTSELLER • "A dusting of magic, the aroma of sugary cakes swirling through the breeze, and a girl who unwittingly brings change to a town of misfits make for a sweet summer story filled with hope and forgiveness."—Beth Hoffman, author of Saving CeeCee Honeycutt
Emily Benedict has come to Mullaby, North Carolina, hoping to solve at least some of the riddles surrounding her mother's life. But the moment Emily enters the house where her mother grew up and meets the grandfather she never knew, she realizes that mysteries aren't solved in Mullaby, they're a way of life: Here are rooms where the wallpaper changes to suit your mood. Unexplained lights skip across the yard at midnight. And a neighbor, Julia Winterson, bakes hope in the form of cakes, not only wishing to satisfy the town's sweet tooth but also dreaming of rekindling the love she fears might be lost forever. Can a hummingbird cake really bring back a lost love? Is there really a ghost dancing in Emily's backyard? The answers are never what you expect. But in this town of lovable misfits, the unexpected fits right in.
We are always looking for author/book suggestions.  Please either come to a book club meeting or send in your suggestions so that we can include them with the others.  Remember, if your book suggestion is chosen, you're the next host/hostess!