Book Club
March 23 @ 6:00 pm

-

8:00 pm
Event Navigation
March's book title is Ivanhoe by Sir Walter Scott.   We will be meeting at book club member, Karen Roberton's residence in Montgomery Village, Maryland on Friday, March 23, 2018 at 6:00 p.m. for book discussion.  This is a potluck dinner so please bring a little something to share with the group.  Karen Roberton will be leading the discussion so please RSVP to Karen at jkrober25@gmail.com and she will provide you with her home address.
Book Synopsis from the Edinburgh University Library:  Ivanhoe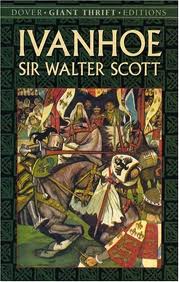 The novel's hero, Wilfred of Ivanhoe, is the son of Cedric, a Saxon nobleman. In the hope of one day restoring the Saxon dynasty, Cedric wishes to marry his ward Rowena, a descendant of Alfred the Great, to Athelstane of Coningsburgh, a descendant of Edward the Confessor. Ivanhoe's love for Rowena, however, threatens these plans, leading Cedric to disinherit him. Ivanhoe joins the Third Crusade, and, fighting alongside Richard the Lionheart in the Holy Land, wins the King's favour. The novel begins with Ivanhoe's return to England, where Prince John is plotting to depose his brother Richard, who has been taken captive in Austria on his way home from the Crusades.
On his way to a great tournament at Ashby-de-la-Zouch, Ivanhoe visits his father's house disguised as a pilgrim. Here he saves the life of Isaac, a rich Jew of York, by warning him of a planned ambush. At Ashby, Ivanhoe, with the help of the King who has returned to England in disguise, vanquishes all of King John's supporters, including his great personal enemy, the Templar Sir Brian de Bois-Guilbert and the brutal baron Front-de-Boeuf. Ivanhoe is wounded in the tournament and nursed back to health by Isaac's daughter Rebecca. Bois-Guilbert and Front-de-Boeuf then assist a mercenary leader Maurice de Bracy in a plan to abduct Rowena. Her travelling party, which includes Cedric, Athelstane, Isaac, Rebecca, and the still-recovering Ivanhoe, is attacked and all are led captive to Front-de-Boeuf's Castle of Torquilstone. Here Rowena and Rebecca courageously resist the advances of, respectively de Bracy and Bois-Guilbert, who has become enamoured of the Jewess. The castle is successfully besieged by a band of Saxons and outlaws, led by Locksley (alias Robin Hood) and King Richard himself, and the prisoners liberated except Rebecca, whom Bois-Guilbert carries off to the Preceptory of Templestowe.
The unexpected arrival at Templestowe of the Grand Master of the Knights Templar leads to a charge of witchcraft against Rebecca, who only manages to escape immediate execution by demanding trial by combat. At the last moment, Ivanhoe appears as her champion to a face a reluctant Bois-Guilbert who has been commanded to represent his order. At the first pass, Bois-Guilbert falls dead from his horse, unwounded but 'a victim to the violence of his own contending passions'. At the end, Richard reconciles Ivanhoe and Cedric, Athelstane withdraws his claim to Rowena's hand, and Ivanhoe and Rowena marry. Rebecca, stifling her love for Ivanhoe, accompanies her father to Spain, where they hope to find a more tolerant society.
We are always looking for author/book suggestions.  Please either come to a book club meeting or send in your suggestions so that we can include them with the others.  Remember, if your book suggestion is chosen, you're the next host/hostess!