Events in RED BOLD are sponsored by SASMM.
Planning Meeting for the June 15, 2019 Highland Games event and Board of Directors Meeting
Please join us for a planning meeting for the upcoming June Highland Games event
on June 15th, 2019
.  The first meeting will be
Sunday, January 20 at 2:30PM
.  We will be sharing the plan as it has developed so far and accepting volunteers to head the various areas of need.
Some food (and drink) will be provided but feel free to bring your own to share.
We will meet at the Spruill home. Please contact Chris Spruill with questions or to volunteer to help if you can't be in attendance at the meeting.
A Board of Directors meeting will immediately follow the Planning meeting.  
Burns Supper February 23, 2019 Urbana Volunteer Fire Department Hall
SASMM Book Club
 Due to ice and snow in the forecast the SASMM Book Club has been rescheduled and will meet on Saturday, January 26, 2019 at The Mount Airy Inn in Mount Airy, Maryland at 6:00 p.m.  The book that is up for discussion is Robert Louis Stevenson's Kidnapped.  Jackie Parker will be leading the discussion so please RSVP as we need to get a head count for the restaurant.  Her email address is jacquel11@yahoo.com.
About Kidnapped on the Robert Louis Stevenson website.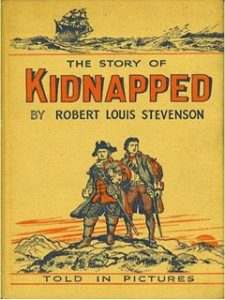 Summary
Kidnapped is set in Scotland just after the Jacobite rebellions and is narrated by the teenager David Balfour.
The recently orphaned David leaves rural Essendean to seek his fortune with his relatives, the Balfours of the House of Shaws. He meets his uncle Ebenezer and immediately suspects the shifty and miserly man of trying to avoid giving David his due inheritance. His suspicions are confirmed when his uncle sends him up a ruined stair-tower in the dark, intending David to plunge to his death.
Before David can confront his uncle, Ransome, the cabin-boy for the brig Covenant arrives with a message for Ebenezer from Captain Hoseason concerning their joint venture. Ebenezer decides to go to the Hawe's Inn at Queen's Ferry to resolve the matter. David follows in the hope of speaking to a lawyer, Mr. Rankeillor.
There, David learns rumours that Ebenezer murdered David's father Alexander, for the Shaw estate. While David knows the allegations are false, he cannot fathom how Ebenezer came to hold the estate.
Despite some misgivings, David is delighted when he is invited to tour the Covenant. Suddenly sensing foul play, he shouts for help and is knocked unconscious – he has been kidnapped!
 We are always looking for author/book suggestions.  Please either come to a book club meeting or send in your suggestions so that we can include them with the others.  Remember, if your book suggestion is chosen, you're the next host/hostess!
---
St. Andrew's Society of Mid-Maryland
2019 Calendar Events
The St. Andrew's Society of Mid-Maryland (SASMM) sponsors a variety of events each year and participates in others. Bear with us while we confirm the 2019 dates, but check out the 2018 calendar for an idea of when and where and join us! There is something for everyone!

---
April
Spring Kirkin' – April 22 Frederick Presbyterian Church
National Tartan Day – April 6 Tartan Day Festival Lions Yard Sale –
Southern Maryland Celtic Festival – 4th Saturday, traveling tent available (reciprocal agreement)
May
Fairhill Games – normally third weekend, tent available
June
Garrett County Games –
Celtic Night at the Keys
British Car Show – 1st Sunday
September
Fall Kirkin
Virginia Scottish Games – Labor Day weekend (reciprocal agreement)
In The Street – 2nd Saturday
Ligonier Highland Games, traveling tent
October
Richmond Games – usually 3rd or 4th Saturday
November
Maryland Irish Festival – 10th-12th
December
Scottish Christmas Walk – 1st Saturday
Kris Kringle Procession – 2nd Friday
Lads and Lassies –7th
Hogmanay – 31st
Board of Director Meetings for 2018
January 14
March 18
May 20
July TBD
September TBD
October 14
November 17 – AGM
---