Events in RED BOLD are sponsored by SASMM.
SASMM Book Club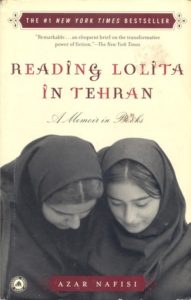 SASMM Book Club will be meeting on Saturday, October 27, 2018 at SASMM Member, Karen Roberton's home  at 6:00 p.m. in Montgomery Village, Maryland.  The book that is up for discussion is Azar Nafisi's Reading Lolita in Tehran: A Memoir in Books.  Karen Roberton will be leading the discussion so please RSVP to her at jkrober25@gmail.com so you can get her address and we know how many will be attending.
About Reading Lolita in Tehran: A Memoir in Books by GoodReads
Every Thursday morning for two years in the Islamic Republic of Iran, a bold and inspired teacher named Azar Nafisi secretly gathered seven of her most committed female students to read forbidden Western classics. As Islamic morality squads staged arbitrary raids in Tehran, fundamentalists seized hold of the universities, and a blind censor stifled artistic expression, the girls in Azar Nafisi's living room risked removing their veils and immersed themselves in the worlds of Jane Austen, F. Scott Fitzgerald, Henry James, and Vladimir Nabokov. In this extraordinary memoir, their stories become intertwined with the ones they are reading. Reading Lolita in Tehran is a remarkable exploration of resilience in the face of tyranny and a celebration of the liberating power of literature.
We are always looking for author/book suggestions.  Please either come to a book club meeting or send in your suggestions so that we can include them with the others.  Remember, if your book suggestion is chosen, you're the next host/hostess!
---
St. Andrew's Society of Mid-Maryland
2018 Calendar Events
The St. Andrew's Society of Mid-Maryland (SASMM) sponsors a variety of events each year and participates in others. Check out the 2018 calendar and join us! There is something for everyone!

---
April
Spring Kirkin' – April 22 Frederick Presbyterian Church
National Tartan Day – April 6 Tartan Day Festival Lions Yard Sale –
Southern Maryland Celtic Festival – 4th Saturday, traveling tent available (reciprocal agreement)
May
Fairhill Games – normally third weekend, tent available
June
Festival – June 15 Friday Night Open House
Mid-Maryland Celtic Festival- June 16
Garrett County Games –
Celtic Night at the Keys
British Car Show – 1st Sunday
September
Fall Kirkin
Virginia Scottish Games – Labor Day weekend (reciprocal agreement)
In The Street – 2nd Saturday
Ligonier Highland Games, traveling tent
October
Richmond Games – usually 3rd or 4th Saturday
November
Maryland Irish Festival – 10th-12th
December
Scottish Christmas Walk – 1st Saturday
Kris Kringle Procession – 2nd Friday
Lads and Lassies –8th
Hogmanay – 31st
Board of Director Meetings for 2018
January 14
March 18
May 20
July TBD
September TBD
---