The Dorothy Jean Petrie Penders
Spirit of Scotland Award
The Society established the "The Dorothy Jean Petrie Penders Spirit of Scotland Award" in 2015 in honor of Mrs. Penders. Known to many as "Dundee Dorothy," Mrs. Penders embodies the "Spirit of Scotland." With roots in Dundee, Scotland and family here in the Unites States, Dorothy truly embodies the Spirit of Scotland so many of us celebrate today. A Founding Member of our Society, long-time Scottish Country Dancer, the force behind our Burns Nicht Supper, and leader of festival volunteers, are only a few of Dorothy's enduring contributions to furthering Scottish heritage and culture.
This honor is awarded to an individual whose contributions in education, culture, and other achievements promote the heritage of Scotland.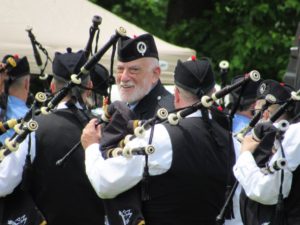 2017 Recipient David Ricklis
David Ricklis
An exceptional Drum Major who has influenced thousands of pipers and drummers.  His portrait graces numerous Celtic festival program covers, magazines, and websites. He was instrumental in creating the Eastern United States Pipe Band Association on training new drum majors. He has effectively created the standard for the East coast which is respected worldwide. Although retired from the MacMillan Pipe Bands after 50 years of service, David is still actively engaged in many of their events. He has been the Drum Major for our festival for many years and now serves as the Pipe Band Coordinator bringing many new ideas to the festival and the program. He is also active in the Scottish American Military Society and other Scottish groups.
---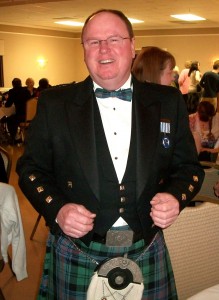 2016 Recipient Joseph Wiggington
Joe's contributions to, and leadership within numerous organizations, clearly demonstrate his qualifications for the award.
At the local level, Joe's vision and leadership have been key to the success of the Society. After serving in a number of leadership roles, he became the president in 2012, facing a shrinking membership, a defunct Festival, and dwindling Society activities.
Joe successfully revitalized the Society by bringing together newly-recruited leadership and the still enthusiastic but overburdened leaders, expanding activities (including a Celtic Night at the Frederick Keys), and successfully increasing membership from less than 80 active members to over 100 members.
In an era where dozens of Highland Games are disappearing each year, Joe's seemingly tireless efforts and sheer willpower resurrected the defunct Frederick Celtic Festival at a new venue in 2012  and it has grown almost exponentially each year with innovations such as the first Mid-Atlantic Scottish Athletics (MASA) sponsored Wounded Warrior class.
Joe established this very award that he is now receiving, understanding the important of recognizing those individuals, such as himself, who often spend otherwise thankless hours over many years promoting Scottish culture.
At the National level, Joe has been an active participant in Council of Scottish Clans & Associates (COSCA) and in the Association of Scottish Games and Festivals (ASGF) and has long served in various leadership positions in the Armstrong Clan Society, including the role of President.
Finally, at the International level, Joe has worked tirelessly (most recently on a joint COSCA/Standing Council of Scottish Chiefs working group) to expand education and participation of the Scottish Diaspora (which consists of Scottish people who emigrated from Scotland and their descendants) by using his experience in the numerous organization to assist Scotland to increase educational outreach to Scottish descendants around the world and promote Scottish tourism.
---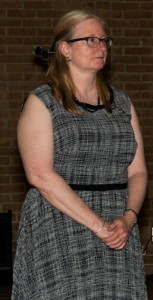 2015 augural Recipient Lisa Frazier
An accomplished tenor drummer, Lisa Frazier's achievements range from being an Eastern United States Pipe Band Association (EUSPBA) champion six years in a row, two of those seasons undefeated, to being the first female EUSPBA judge for the North American Championships.
Lisa has played tenor and bass drums in pipe bands since 1972 and has been the Director of the Rockville High School Pipe Band since 1995. Her dedication to teaching has touched hundreds of students. Lisa has developed a line of tenor drumsticks, recorded an instructional video for beginning tenor drumming, and created unique symbols for tenor drummer's written music.
Drumming with different Pipe Bands Lisa's talent has captured those bands prestigious award such first place in Scotland at Bridge of Allen, Perth, and Dunfermline competitions; Best Drum Corps in North America; and second place at the World Championships.
Full policies and procedures available via this pdf: SASMM Dorothy J Penders Award 12 Oct 2015