Spring Kirkin'
May 5, 2019 @ 10:30 am

-

12:00 pm
The St. Andrew's Society of Mid-Maryland spring Kirkin' will be Sunday, May 5, at 10:30 at Frederick Presbyterian Church at 115 West Second Street, Frederick, MD 21701
A History of the Kirkin' o' the Tartan
A Kirk is a Scottish word for church. Tartan is the traditional garb of a Highland Scot. The Kirkin' of the Tartan is thus a traditional blessing of the tartan by the clergy.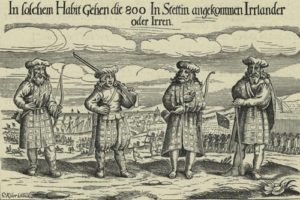 The earliest image of Scottish soldiers wearing tartan,
from a woodcut c. 1631.
Following the failure of the Jacobite rebellion of 1745 the tartan was forbidden to be worn. Price Charles Edward Stuart had escaped over the water to France, but this was small physical comfort to the thousands of Highlanders whose way of life had been irrevocably altered. The clan system, with its representative tartans, was demolished as troops loyal to the Duke of Cumberland and the house of Hanover ravaged the Scottish Highland, searching out Jacobite Supporters.
David Morier's An incident in the rebellion of 1745. The eight featured highlanders in the painting wear over twenty different tartans
Thus the Kirkin' of the Tartan went into hiding, away from official eyes. Each Highlander secretly touched a bit of his tartan hidden among his clothing at the appropriate moment in the worship service. In much the same way, the Jacobite upper class in Scotland obediently toasted the king at public banquets, and with deft flick of the wrist, the toast became not for George II or III but for the king "over the water", Charles Edward Stuart, as the hand passed over the top of the glass.
A private and corporal of a Highland Regiment, circa 1744. The private is wearing a belted plaid in the Government tartan. Note how the plaid is being used to protect the musket lock from rain and wind.
These overt acts of defiance against officialdom died with the coming of the 18th century industrial revolution and the Highland clearances. Thousands of Highland crofters were forced into becoming pioneers in the new world as their former aristocratic lords drove them off their land, so that the much more profitable business of raising sheep could be carried on. The Highlander became a victim of the Industrial Revolution.
During World War II, there was concern that Americans were not signing up to fight on behalf of Britain. The Reverend Petre Marshall, Chaplain of the U.S. Senate attempted to instill pride in their homeland among Scots living in the U.S.A. The Kirkin' O' The Tartan ceremony was created by Dr. Marshall and held in many Presbyterian churches across the U.S.A.
Today, Scots gather at the Kirkin' O' The Tartans ceremony and display their tartans to receive Gods blessing on the memory of the ancestors and those hardy Scots who crossed the ocean between the old world and the new world to build a better life.
Submitted by Tony Sumodi on behalf of SHANO (Scottish Heritage Association of Northeast Ohio). Images are in the public domain from Wikipedia.